Staff & Departments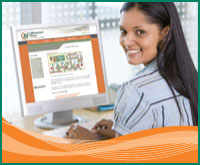 If there's one thing we've learned over the years, it's that no amount of technology can replace the human touch. That's why we hire only the most qualified individuals to serve on our team. We look for people that share our philosophy that your business is our business.
Our team of diversely skilled professionals continually push themselves to learn and evolve so that we may help you conquer each new challenge on the road to success. Every person on our staff is committed to providing you with the best possible customer service and the highest-quality products. This commitment is reflected in everything we do.
In working with us, you'll find that our company is not overly regimented. Everyone understands their role but is willing to help out wherever needed to see a job through. You'll never hear a member of our staff say, "that's not my job."
Though we believe whole-heartedly in this open approach, it's necessary to separate our company into a few departments. Whether it's Customer Service or production, it takes everyone we have to make our clients look their best.
Feel free to "tour" our departments for more information.